161 BECOMES 161PX - PROXIMA
With outstanding qualitative properties, our dust- and waterproof light fitting 161 has earned a legendary reputation over half a century. Since its introduction in 1972, we have continued to develop and improve it. Then as now, it impresses with its unreachable quality Made in Germany. And the almost unlimted options to customize it leave nearly nothing to be desired.
With the new 161PX PROXIMA, we have now perfectly engineered the legendary 161 to LED technology and set a new benchmark. A luminaire you can always rely on.
You will not find a better dust- and waterproof light fitting for rough industrial environments.
Extremely robust and perfectly adapted
The Highlights
Extremely robust 
High-impact resistant housing, wall thickness 1.8 mm
Diffuser with high mechanical stability, wall thickness 2.0 mm
Robust closure clips and safety locks  
Highly flexible 
FastFix quick-mounting system with variable mounting distances
Variable cable entry thanks to additional entries at the front and in the centre of the top of the enclosure
Prepared for 3-pole loop in/loop out wiring on the front side
Efficient, sustainable and future-proof  
Luminous efficacy up to 163 lm/W = high energy cost savings
Service life L80 > 70,000 hours
All components can be replaced on site
Use of LED modules according to Zhaga standard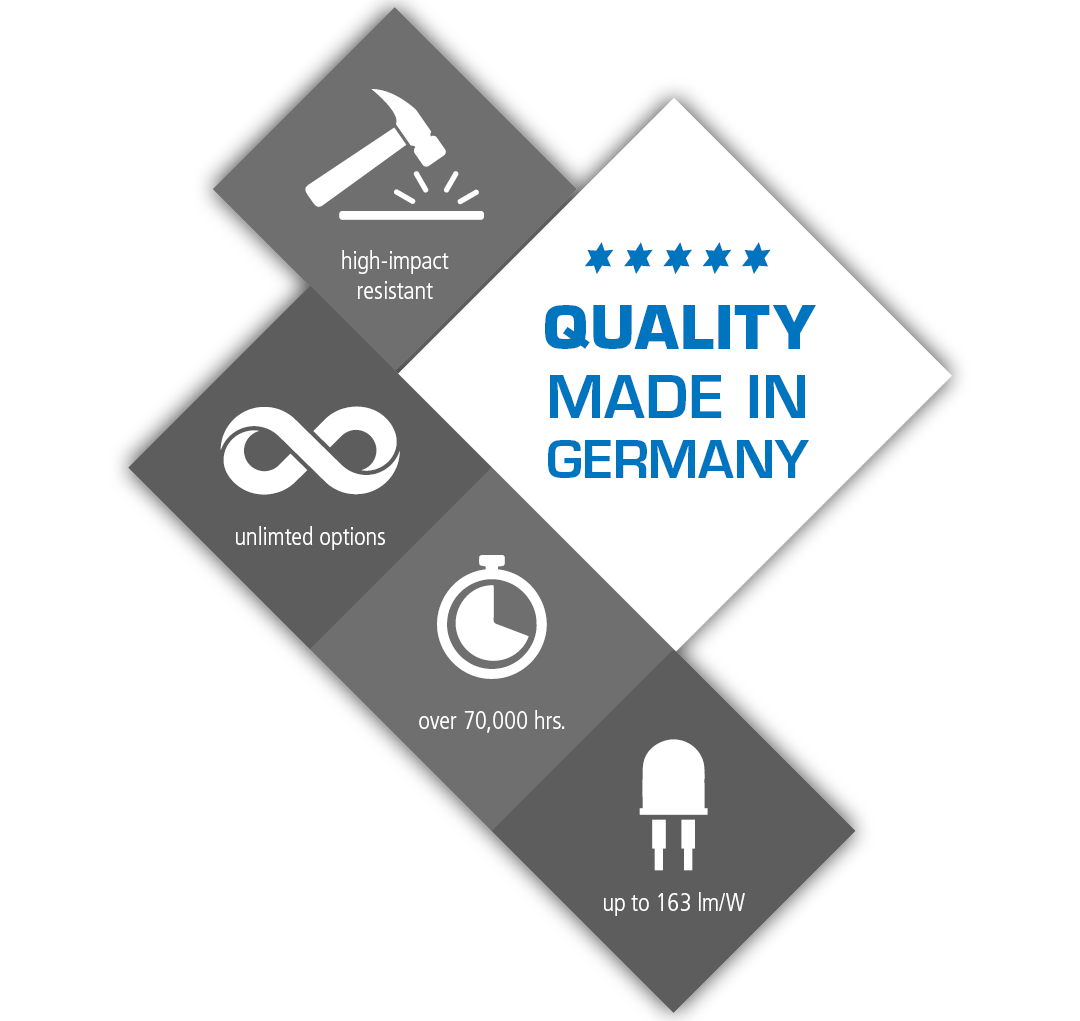 The right solution for every challenge
The PROXIMA is a true multi-talent and thus ideal for industrial use with its diverse requirements.
Countless modifications show what is possible. We have compiled a small selection for you here:
Light colour

3,000K; 4,000K; 6,500K
Colour rendering Ra > 90 (light colour 940)
Coloured LEDs for signalling applications and special areas (e.g. potato storage)
Amber LEDs (light colour 518) e.g. for insect-friendly lighting in outdoor areas
Lighting control/Light management

DALI control DIM (DIMD)
Dimming function "Corridor Mode" (DIMC or DIMC Z30)
HF sensor (SENS)
Variably adjustable luminous flux (VARIO)
Radio-controlled lighting management system (LIMAS Air)
Wired light management system (LIMAS Line)
Wired light management system with central monitoring of single-battery emergency luminaires (LIMAS Line PRO)
Temperature range

High temperatures up to +70°C
Low temperatures down to -40°C
Wide temperature ranges from -40°C to +70°C
Special area of application

Unprotected outdoor areas (AUS)
Food processing areas (IFS)
Areas with intensive cleaning and desinfection (LM)
Areas stressed with harmful gases (RESISTANT series ER/HR)
Areas with high vibrations (RF)
Emergency lighting

Single-battery version with automatic self-test (MA)
Single-battery version for high ambient temperatures up to +50°C (H50 MA)
Single-battery version with DALI emergency unit for central monitoring (MA-Z)
For connection to central power supply (ZB)
Futher modifications

Protection class II (SKII)
FastConnect plug connection system (FC)
Stainless steel closure clips and safety locks (KE)
Polycarbonate cover (PC)
Through-wiring up to 7x2.5mm² etc.
We will also find solutions for further extraordinary applications. We will be pleased to advise you!
Please note: article data for the above modifications can be found within the respective product family 161PX or 161PX VARIO / NOT.