Wouldn't it be perfect to have a luminaire for almost every need?
Only one single type and you always have the right light fitting at hand. Easy to use and cost-effective.
Then you should get to know our VARIO light fittings!
No LED luminaire combines so many advantages in a single type as a VARIO.
Gone are the days of having to choose the right type for a particular need from a large number of luminaires.
Gone are the days of having to stock several types of light fitting for different illuminance requirements. And gone are the days of having to remove and dispose light fittings when the requirements change.
Perfect adaptation to every situation
You can adjust the luminous flux almost infinitely - not only during the initial installation. It can be changed at any time in order to adapt the lighting individually. Whether because of change of use of the premises and the illumination requirements or simply because the lighting is perceived as too bright or too dark. All you have to do is change the setting - depending on the light fitting series - of the built-in DIP switch or in the NFC app, until you are satisfied with the result. It couldn't be easier and more flexible.
Overview of the most important benefits
Variably adjustable luminous flux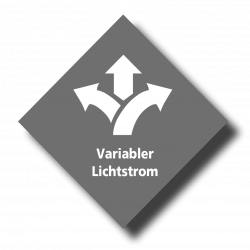 almost infinitely variable:
without tools
changeable at any time 
one single type instead of several variants
always the right light fitting at hand
perfect adaptation to any need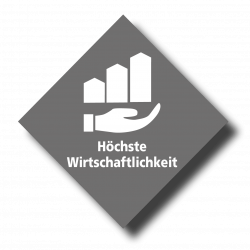 Light exactly as required
maximum energy savings
optimised warehousing
And since we are convinced of the quality of our luminaires, you get a 5 year guarantee on all VARIO light fittings.
The green side of the VARIO
Highly efficient, long-lasting quality luminaires are cheaper, more environmentally friendly and more sustainable over the life cycle. A long service life means longer use and thus less waste. Highly efficient light fittings leads to higher energy savings and thus lower CO2 emissions.
VARIO luminaires score with further advantages for the environment. The variable adjustment of the luminous flux maximises the energy savings in each individual case and enables multiple use of a luminaire instead of its disposal. VARIO luminaires thus contribute to a particularly high degree to reducing the environmental impact and protecting valuable resources. 
Available Light fitting series in VARIO VERSIONS
NFC stands for Near Field Communication and is an international transmission standard for the wireless exchange of data over short distances. NFC is based on the RFID technology (Radio-Frequency Identification), in which data is transmitted via electromagnetic induction.
In this way, the lights can be parameterized voltage-free with a corresponding app before they are installed. This simple, quick and tool-free setting of the luminous flux can of course be changed on site at any time. All you need is a smart device (tablet / smartphone) and the corresponding control app.
These listed products are just a selection of our wide range of possibilities.
Other outdoor light fitting series, including decorative pole-top luminaires, are optionally available as VARIO versions.