limas line basic
Wired light control - compact and clear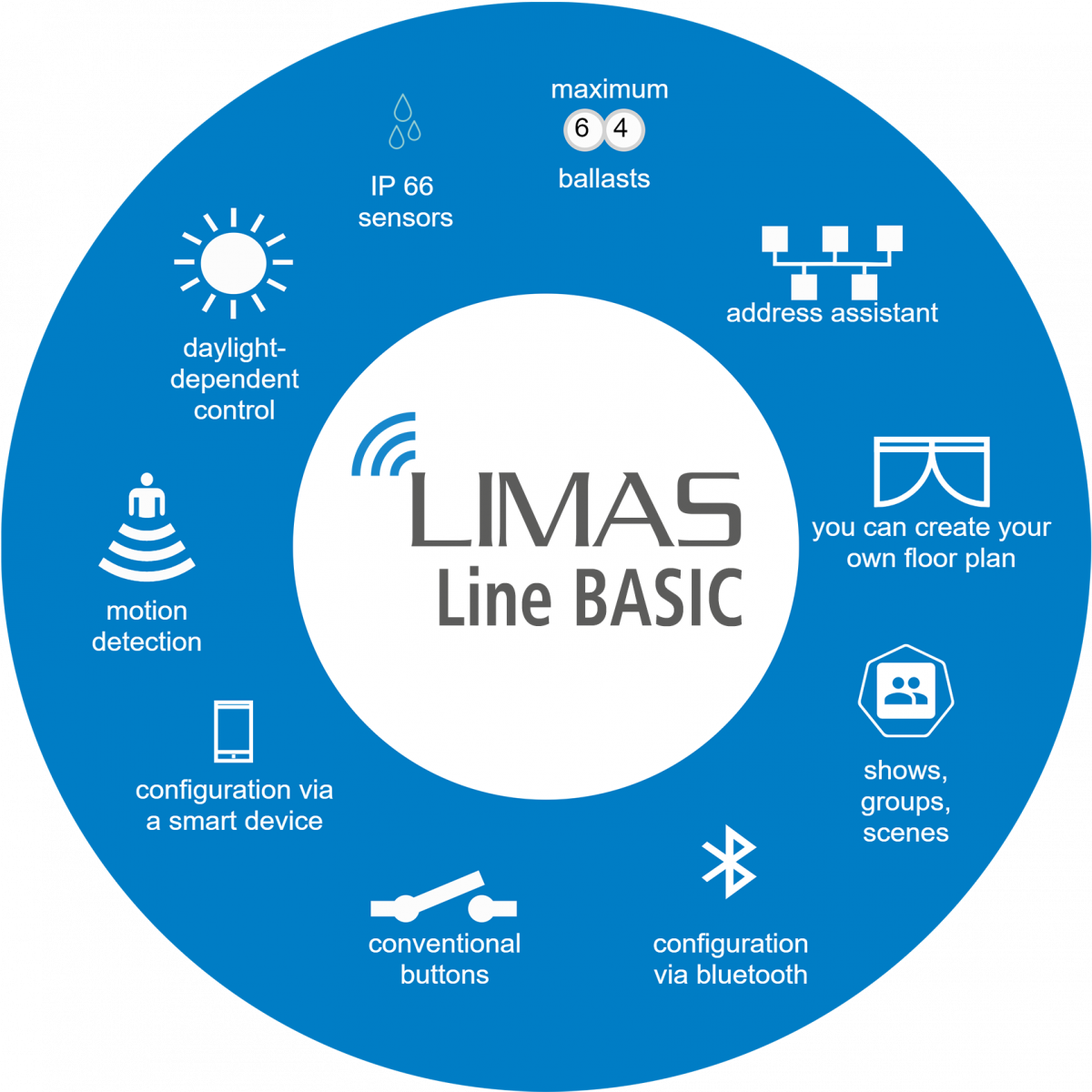 The light management system LIMAS Line BASIC offers a compact alternative to the PRO version, both technically and in terms of dimensions. It enables simple addressing and grouping of light fittings, the integration of standard push buttons and sensor-based automation.
Die wichtigsten Unterschiede im Überblick:
Max. 64 ballasts per system
Configuration via App (iOS/Android)
Floor plan of the given room can be reproduced rudimentary and then equipped and configured with the light fittings, sensors and buttons
Sensors with higher protection class IP66
No emergency light monitoring possible
DALI power supply required
Every luminaire of our product portfolio with item name extension DIMD as well as all luminaires of other manufacturers with DALI interface can be integrated easily.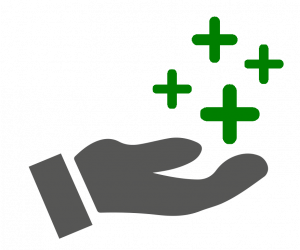 General achievement of energy cost savings with DALI light fittings indoors (Light on Demand)
Control and automation of general lighting using motion detectors or daylight-dependent control (e.g. in shelf aisles, warehouses, car parks, office floors, etc.)
Features
LIMAS Line BASIC offers a variety of features for needs-based lighting control and for extensive monitoring of the light fittings. Thanks to the intuitive user interface, system settings can be easily adjusted.
| | | | |
| --- | --- | --- | --- |
|   | LIMAS Line PRO | LIMAS Line BASIC | LIMAS Line ESC |
| User-friendly user interface | ✔ | ✔ | ✔ |
| Motion detection (Light on Demand) | ✔ | ✔ | - |
| Daylight-dependent control | ✔ | ✔ | - |
| Conventional buttons can be integrated | ✔ | ✔ | - |
| Conventional switches can be integrated | ✔ | - | ✔ |
| Calendar function for configuring day-/time-specific lighting settings (scenes) | ✔ | - | - |
| Integration of the light management system in a higher-level building management system (BACnet protocol) | ✔ | - | - |
| Max. number of ballasts per system | 192 | 64 | 128 |
| Emergency light monitoring | ✔ | - | ✔ |
| Max. number of single battery emergency light fittings | 192 | - | 128 |
| System network (combining several controllers) | 5 = 960 Luminaires | - | - |
| Control/configuration | Browser | App (iOS/Android) | Touch-Display |
| Free (security) updates | ✔ | ✔ | ✔ |
| DALI power supply necessary | - | ✔ | ✔ |
| IP66 Sensors | - | ✔ | - |
| Installation by | Assembly staff | End user | Assembly staff |
| Installation in | Control cabinet | Flush-mounted box | Control cabinet / wall |
| Floor plan of the given room can be reproduced rudimentary and then equipped and configured with the light fittings, sensors and buttons / switches | - | ✔ | - |
| System backups possible | ✔ | ✔ | ✔ |
| Communication and power line in one cable | ✔ | ✔ | ✔ |