Harmful gases don't stand a chance
The use of LED luminaires in the industry is largely standard today. High quality LED light fittings are extremely efficient and durable. This saves a considerable amount of energy and maintenance costs. A lower CO2 burden, longer service life and therefore less waste are the positive consequences. This protects the environment and your wallet.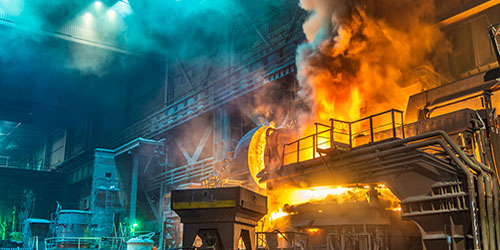 But LED light fittings cannot be used everywhere without hesitation, because LEDs are sensitive to so-called harmful gases. Depending on the concentration, temperature and exposure time, this can result in significantly shorter lifetimes, significant declines in luminous flux and damage or even complete failure. Therefore, a careful examination and technical advice is essential, especially for planned use in critical areas.
The list of typical harmful gases is long, although in addition to the LEDs, the resistance of all other components of the luminaire must be borne in mind.
Hydrogen sulfide • carbon disulfide • sulfur dioxide • ammonia • chlorine • fluorine • acrylate • hydrochloric acid • sulfuric acid • phosphoric acid • nitric acid • sodium hydroxide solution • acetic acid • formaldehyde • acetate • acetone • benzene • potassium hydroxide •…
Chemical industry • Galvanizing plant • Electroplating • Tannery • Melting aluminum • Foundry • Glass production • Paper factory • Body shop • Tire storage • Composting plant • Waste incineration plant • Sewage sludge storage • Agricultural business premises (stables) • ...
Since the company's beginnings in 1895, we have been developing and producing luminaires for application in difficult environments. In addition to explosion-proof luminaires, we developed the first gas-tight pendant luminaire in 1934, which was advertised with the statement "completely hermetically sealed". With this extremely long experience and high level of expertise, we have also tackled the harmful gas problem and worked intensively on the development of suitable luminaires.
Result: The RESISTANT luminaire series
It bundles all luminaires across all product series with the special extra resistance to harmful gases and corrosive atmospheres. Extremely robust, efficient and long-lasting luminaires that are specially designed for these extreme areas of application.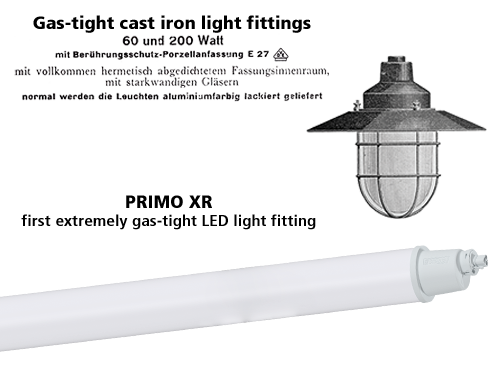 Depending on the level of resilience, the program is divided into 3 areas:
ER light fittings = light fittings with increased protection against harmful gases
HR light fittings = light fittings with high protection against harmful gases
XR light fittings = extremely gas-tight light fittings
Due to the large number of harmful gases and the most varied of conditions, a test installation is also advisable before the entire lighting system is converted. A procedure that gives security and pays off in the end.
We offer RESISTANT luminaires in ER and HR versions in almost all product areas. The PRIMO XR is the first extremely gas-tight LED luminaire. We work continuously with our customers to expand this special program.