The invention of the incandescent lamp was just a few years past, when Adolf SCHUCH founded the company in 1895. Fascinated by this new technology, he worked on lighting solutions for areas with harsh ambient conditions, such as wet rooms in breweries, leather factories and ex-hazardous areas in petro-chemical industries and mining.
The company has grown over generations due to innovative power, foresight and its highly motivated and engaged employees, reaching an outstanding international reputation as a lighting specialist and becoming one of the leading enterprises in this business.
1895 - 1919
The Beginning
SCHUCH grows fast to an expert in developing lighting solutions for extreme environmental conditions
1895
Adolf Schuch founded the company Adolf Schuch Elektrotechnische Fabrik in Worms at the river Rhein on March 2nd, 1895. He started the production of waterproof porcelain sockets for incandescent lamps as well as waterproof porcelain hand lamps with protective glass for wet rooms in the industry.
1906
With the production of the first street light fitting and wall bracket, SCHUCH enters the market segment of municipal outdoor lighting.
1910
The first explosion protected mining light fittings were delivered to coal mines in the Ruhr region, the Saarland as well as mines in South Africa.
1912
The outdoor luminaire portfolio has grown further. Cast cover fittings for metal filament lamps, globe and wall light fittings with polished glass are just as much a part of the portfolio as rope supported street light fittings with reflectors and a large number of brackets and wall arms with artistic decorations.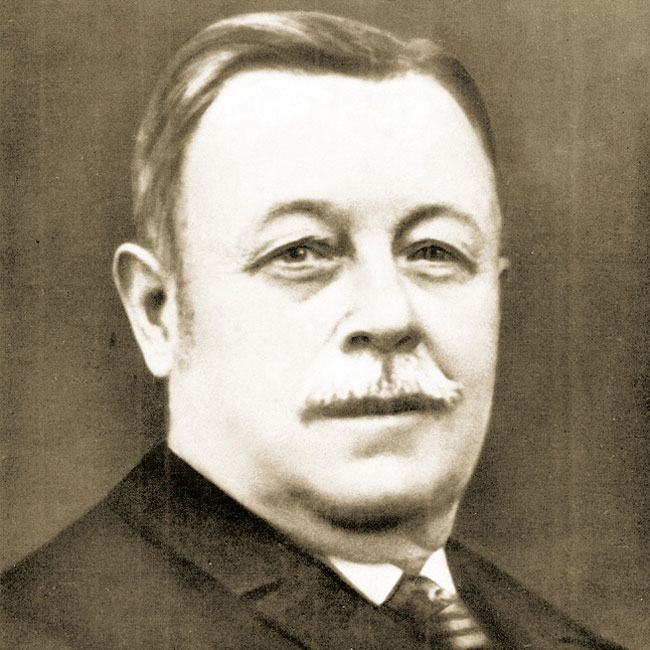 1920 - 1939
25 Years Schuch
SCHUCH develops to a pioneer for explosion protected light fittings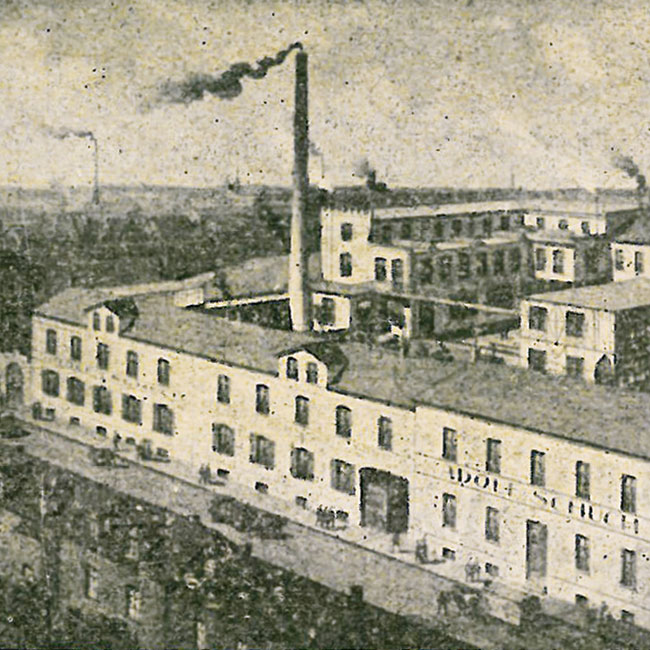 1920
Explosion protected luminaires has developed to the basis of the whole manufacturing program. SCHUCH became a pioneer for ex-protected light fittings, junction boxes, switches and sockets.
1926
Industrial light fittings, oval cast light fittings, ceiling and pendant light fittings up to 1,000 W as well as narrow, semi-narrow and inclined beam floodlights up to 2,000 W for illumination of industrial plants has become part of the product range.
1934
SCHUCH introduces the first gas-tight cast-iron pendant light fitting ("completely hermetically sealed") onto the market.
1935/36
Further luminaires for special applications follow, e.g. oven lamps, barrel illumination for breweries and wineries as well as special fittings, e.g. stable and cellar switches, air protection cylinders with blue glass.
Introduction of the first modern pole-top luminaire (Type 10538) for parks in mushroom-shape.
1940 - 1945
50 Years Schuch
Destruction and reconstruction
1940
Destruction of most of the company premises as a result of World War II.
The production continues in the neighbouring premises of Lederwerke Doerr + Reinhard GmbH.
1945
Destruction of all company and backup premises as a result of intense bombing of Worms on February 21, 1945.
Already in the summer, the reconstruction of the company starts.
Launch of an improvised manufacturing program for night lamps, desk lamps, workplace and shop lamps, due to deficiency in raw materials.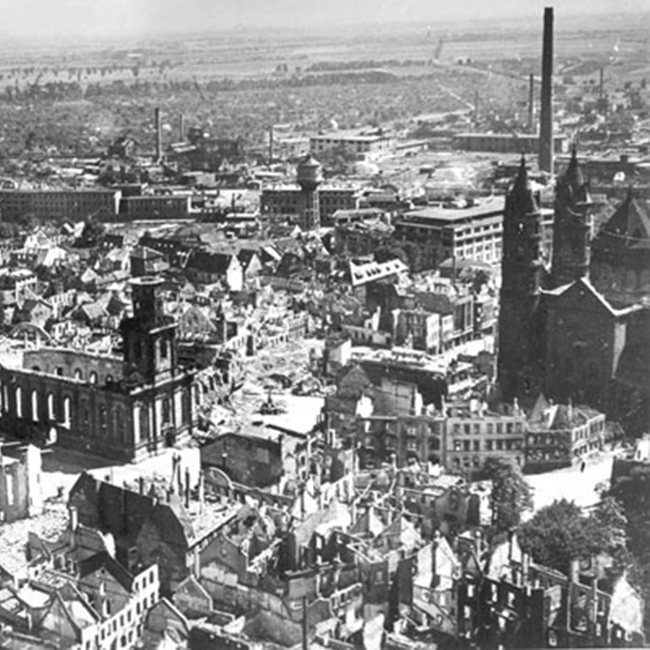 1946 - 1959
Pioneer spirit awakens
SCHUCH discovers new product areas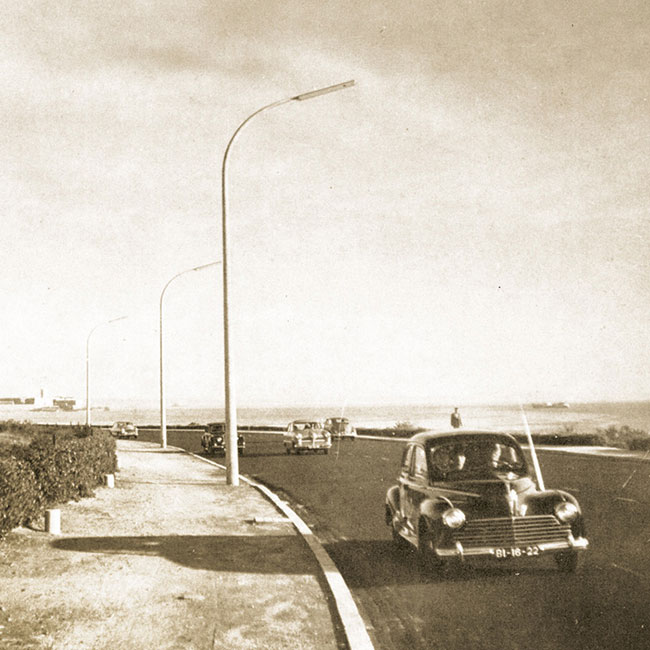 1948
The production of explosion-protected light fittings, street light fittings and industrial and special-purpose light fittings of all types was restarted.
1949
New lamp technologies capture the market. With the production of the first general-diffuse luminaire for fluorescent tubes, SCHUCH enters the market of damp-proof linear luminaires.
In the mid of the 50s, the first Ex-proof linear luminaires for fluorescent tubes follows as well as street and high bay light fittings for high pressure mercury lamps.
1952/53
With the experience of 50 years as a manufacturer of sturdy high quality light fittings for rough industrial applications, SCHUCH recognises the potential and the advantages of glass fibre reinforced polyester for luminaires. The industry-wide first damp-proof luminaire with a glass fibre reinforced polyester housing was introduced onto the market.
Soon afterwards, explosion protected light fittings and street light fittings follow.
1957 
The company enlarged its working and storage areas by more than 14,000 m².
1960 - 1969
The new plant grows...
...as well as the product range and the manufacturing depth
1962
The plant in the "Römerstraße", located right in the centre of Worms, bursts at the seams. A new modern plant "Werk II" is built in the "Mainzer Straße" in Worms with a total of 40,000 m2.
1964
The production mostly move into the new plant, including glass fibre reinforced polyester pressings and a fully automatic powder-coating line.
1966
The explosion proof and damp proof product range now include linear luminaires with comfortable internal locking system, which minimise the time spent on lamp replacement and  provides a smooth surface and an appealing design.
1969
A 16,000 m² office and manufacturing building is built.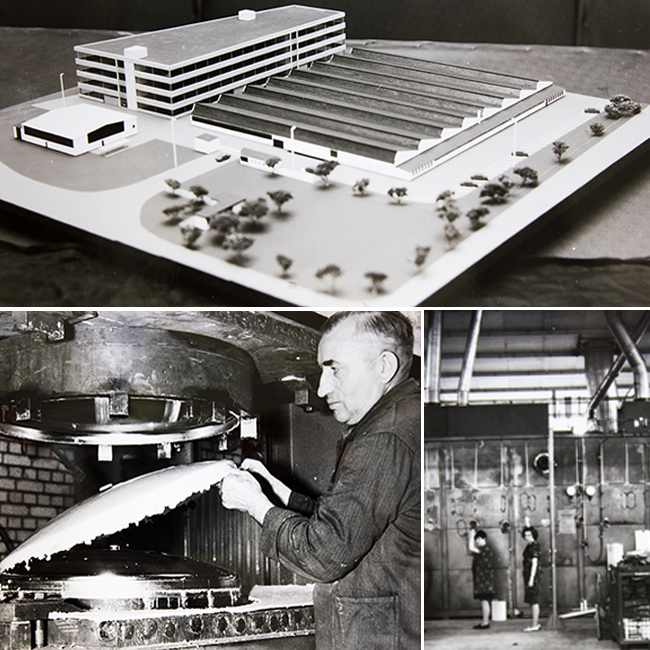 1970 - 1989
75 Years Schuch
As a leading innovator, SCHUCH largely shapes the development of modern explosion protected linear luminaires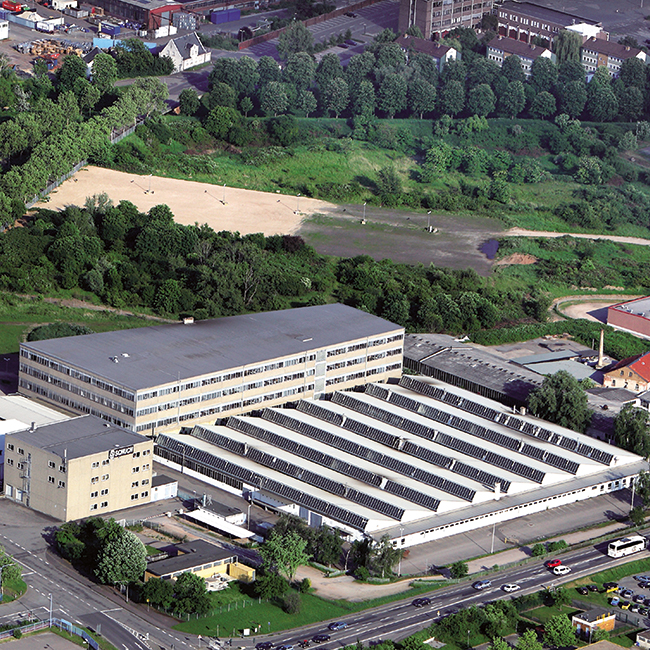 1970
Numerous patents and registered designs prove SCHUCH's extensive significance in the explosion protected light fittings market.
1975
A foamed polyurethane gasket is used in waterproof light fittings for the first time, which automates the manufacturing step "gasket pasting".
Production of the first industrial high bay light fitting made of glass fibre reinforced polyester especially for application in very aggressive environment, such as in galvanising plants, compost systems, steeping plants, etc. SCHUCH is known for its problem solving competence, especially for difficult operating conditions. 
1986
After substantial development work, SCHUCH introduces world's first  explosion-protected linear light fitting with electronic control gear. Only a few years later, SCHUCH presents the first explosion-protected linear light fitting for standard 2-pin fluorescent tubes. A pioneering solution that enables to generally use conventional fluorescent tubes in explosion-protected light fittings.
1990 - 1999
100 Years Schuch
Perfect quality - Finest proof of a clear strategy
1995
First certification as per DIN ISO 9001. The total quality management includes all company activities, products and production areas.
1998
World's first approval to use an explosion-protected ECG with an "end-of-life" cut-off system. It was immediately accepted as a mandatory standard requirement. This was another important milestone that had documented SCHUCH's innovative strength.
1999
Being a manufacturer of explosion-protected light fittings and components, SCHUCH, moreover, is subject to a strong supervision by PTB with regard to quality control as per DIN EN/IEC 80079-34. The routine surveillance audits have been successfully carried out and reconfirmed by a certificate.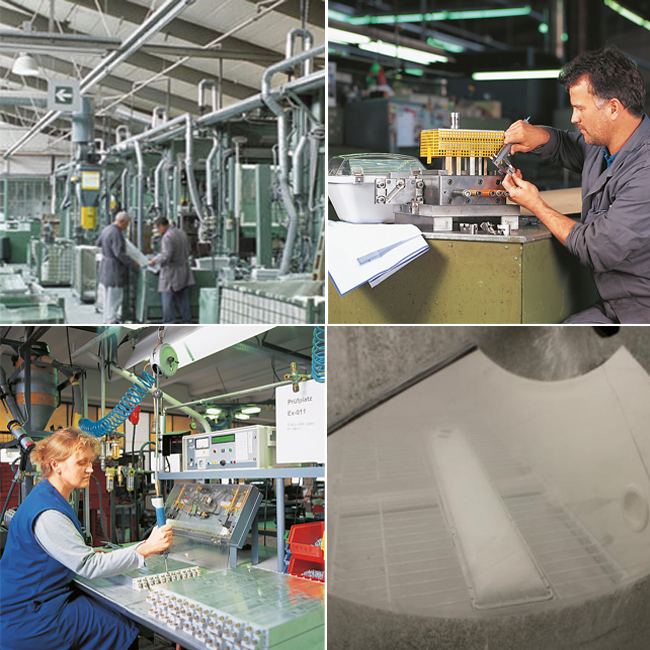 2000 - 2009
The LED era begins
The LED technology revolutionises lighting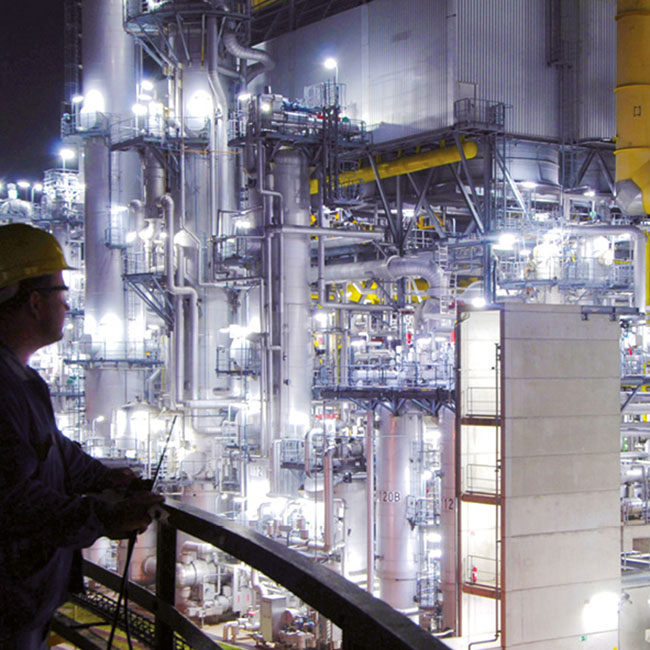 2000
The new technology leads to revolutionary changes in all company activities and areas. The increasing complexity and even shorter development cycles will challenge us in the future.
2002
Establishment of a new highly skilled engineering department that focuses on energy efficient LED lighting solutions.
Within just a few years, a complete LED product range is successfully introduced onto the market.
2009
By the end of the decade, two product portfolios are available for almost every product group. The classic conventional product portfolio with perfected and proven light fittings as well as the modern LED product portfolio with energy efficient LED solutions. 
2010 - 2019
The LED product range grows rapidly
New megatrends such as smart lighting and sustainability are the development drivers of innovative lighting solutions
2011
After extensive development and standardisation work, the first explosion-protected LED light fitting was introduced.
2014
With the light fitting series 161 VARIO, SCHUCH introduces the first luminaire with adjustable luminous flux. The possibility of setting the optimal luminous flux results in maximum energy saving.
2016
2019
Think about tomorrow today! RFL light fittings, that are prepared for easy retrofitting of light management systems, provide flexibility.
SCHUCH is intensively concerns itself with the influence of harmful gases on led light fittings. This leads to the RESISTANT product series for the application in harmful gas environments.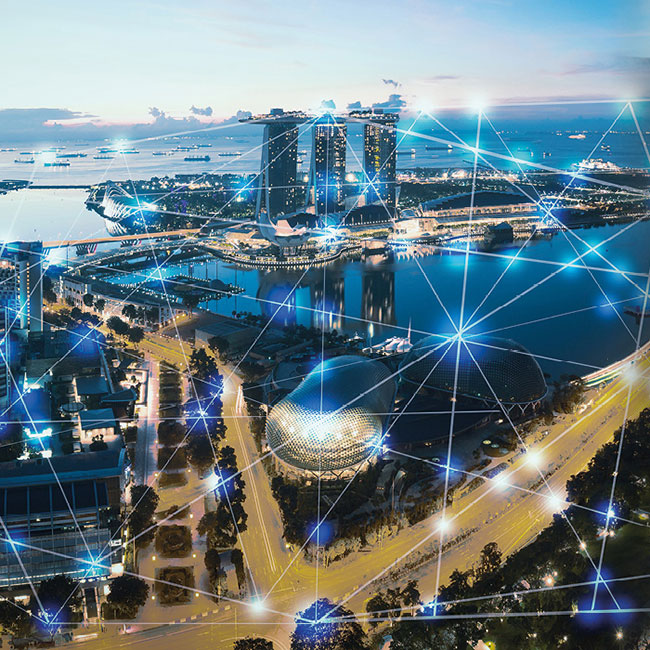 2020 -
125 Years Schuch
Tradition and innovation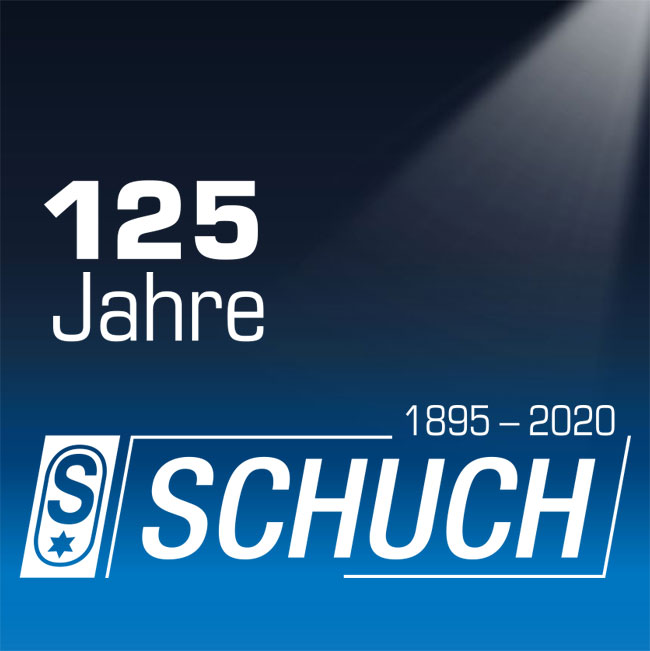 If you want to survive in a global comparison, you have to keep up with the rapid development in all areas - a matter of course for SCHUCH!
Meanwhile in the 5th generation, the company has been working competently, innovatively and with passion for excellent light for 125 years!