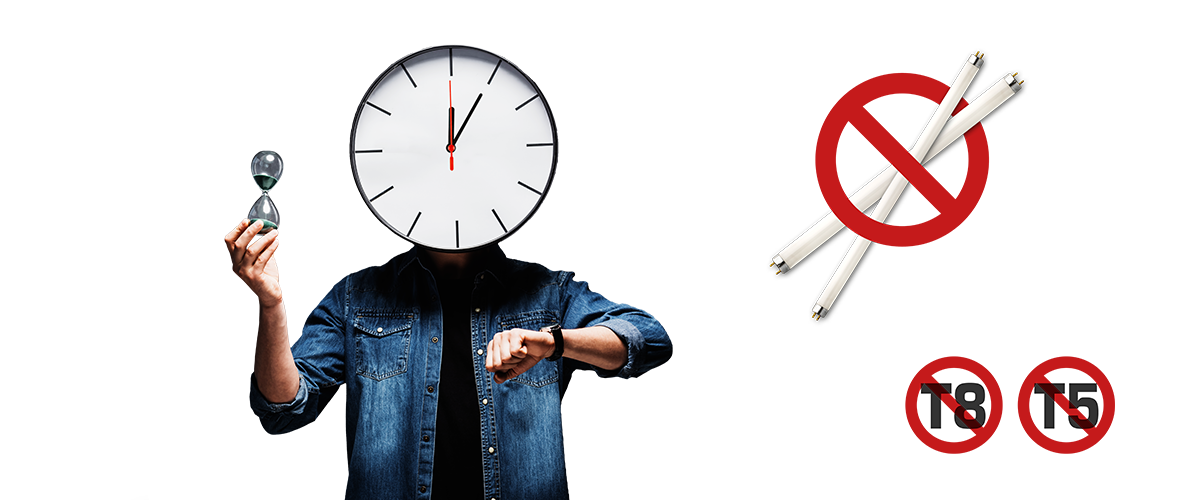 TIME IS RUNNING LOW!
The end of T5 and T8 fluorescent lamps came quicker than expected. What has been the standard solution in many commercial and industrial applications for decades is now no longer allowed to be marketed because mercury-free LED solutions are available as an alternative. The pressure to act increases and with it the question of the best solution.

THE END OF FLUORESCENT LAMPS
RoHS-DIRECTIVE - QUECKSILVER BAN DECLARED
The Ecodesign Directive requires minimum energy efficiency values for fluorescent lamps. However, the new amendments to the RoHS Directive ban mercury in discharge lamps for health and environmental reasons. As a result, the sale of T5 and T8 fluorescent lamps is now banned in the EU since 25.08.2023.
SWITCHING WITH RETROFIT LAMPS?
SIMPLE, BUT NOT THE BEST SOLUTION
Replacing fluorescent lamps with LED retrofit lamps sounds easy, but it's not. In most cases the use of LED retrofit lamps in older existing luminaires is prohibited.
In addition, in the commercial and industrial environment, relevant standards and occupational health and safety requirements must still be met even after the switch.
With a RETROFIT solution, it is particularly important to consider the following points:
 All test marks of the luminaire are omitted
 Explosion-proof light fittings lose their approval
 The product liability of the luminaire manufacturer expires
 You as the operator are responsible for safe operation and compliance with all standards and regulations
And a BEG funding is excluded.
Refurbish with LED light Fittings and save twice!
OLD SYSTEMS WITH FLUORESCENT LAMPS ARE EXPENSIVE AND POLLUTE THE ENVIRONMENT
Lighting systems with discharge lamps consume a lot of energy. They are maintenance-intensive and cause extra costs in ongoing operation due to the fact that necessary lamp changes with any downtimes may be required. In addition, the lamps have to be disposed professionally as electronic waste at a charge. For your budget and the environment, this is a permanent, unnecessary burden, which can be avoided by using LED luminaires.
LED LUMINAIRES FROM SCHUCH - THE PERFECT SOLUTION
LED luminaires from SCHUCH are of outstanding quality and, thanks to sustainable product design, highly efficient, extremely durable, highly reliable, maintenance-free, repairable and upgradeable. By changing to our LED luminaires you will safe up to 80% on ernergy and maintenance cost, while also reducing your carbon footprint significantly. And when you choose a smart solution while retrofitting your lighting system, you can maximize the efficiency potential of LED technology.
With the light fitting series PROXIMA, LUXANO 2, PRIMO XR, TUBEO, ExeLED and many other series, a wealth of solutions is available for a wide range of applications and requirements.
funding PROGRAMMS MAKES THE SWITCHOVER EVEN MORE ATTRACTIVE
In Germany, there are many different subsidy programs, including the BEG program (Bundesförderung für effiziente Gebäude - federal subsidy for efficient buildings), which provides a subsidy of 15% of the expenses for materials, dismantling of the old system, installation and commissioning, including other necessary ancillary work, for upgrading to energy-efficient lighting systems in non-residential buildings as well.
Subsidy programs always offer the opportunity to reduce investment costs. Therefore, before starting your modernization project, always check the funding opportunities in your country.
Take advantage of the opportunity, save massively on energy costs in the future thanks to the latest LED technology and reduce climate-damaging CO2 emissions permanently and sustainably.
System with 100 damp-proof luminaires
Old system*: 161 158 ECG • T8 • 58W
Refurbishment: 161PX 15L34 • LED • service life > 70,000 h • 2-shift operation approx. 4,200 h / p.a.
Difference connected load: approx. 34 W / luminaire
Energy cost saving

Per year: 14,300 kWh x 0,30 € / kWh = approx. 4,300 €
Over the lifetime: approx. 240,000 kWh  approx. 72,000 €

 

Amortisation

Investment incl. installation approx. 16.500 € (with 15% subsidy approx. 14,000 €)
Amortization period: approx. 3.8 years (with subsidy approx. 3.3 years)
*A lighting installation that was already equipped with conventional SCHUCH luminaires serves as the data basis. Given the wide range of manufacturers of T8 lamps, the savings could well be higher.