SCHUCH light fittings are unique branded products "Made in Germany" of highest quality standard which you can
rely on. Every single light fitting of our product range is an original SCHUCH product. Designed and engineered by our own engineers, produced using own tools and 100% quality approved.
 
Unique and distinctive!

QS-Certifications
SCHUCH stands for highest quality standards since its foundation, which is proven by many quality certificates.  
QS-certification according to DIN EN ISO 9001
Since 1995 our quality management system is certified according to DIN EN ISO 9001. It covers all company activities, starting from design, engineering, production and final assembly to sale and is valid for all product and manufacturing fields. This is continuously reconfirmed.
Q1-quality supplier by Deutsche Bahn AG
Our highest quality standards are also certified by Deutsche Bahn AG (Germany railway company). Not only with regard to product quality and process reliability, but also with regard to energy efficiency and sustainability. SCHUCH is certified Q1 quality supplier of Deutsche Bahn - a seal of quality, which planners and business partners of Deutsche Bahn can rely on.
 
Everything from a single source
From design to final assembly - we perform all the light fitting design, testing and production stages at our plant in Worms. This comprehensive philosophy allows us to control all processes which is utterly important for the high quality of our products. Furthermore it allows us to react promptly and flexibly to customer needs as well as to changing market requirements.
Our engineers use advanced CAD systems to design new light fittings and to optimise and modify current products according to individual customer needs. In the process, we benefit from our more than 125 years expertise and know-how in the field of lighting and from the collaboration with experienced materials specialists. 
By means of thermal simulation programs we are able to reach a perfect thermal management for every light fitting.
Due to the in-house tooling department, the sample production by means of 3D-printing and all manufacturing departments, our engineers are able to examine the feasibility of their ideas and the suitability of the light fitting for the intended purpose immediately.
Our luminaires as well as components and materials are tested in our own laboratory centre, accepted by VDE. 
Apart of photometric measurements of the luminaires on our robot-supported LMT Metrogon, luminous flux measurements and graphical representation in polar diagrams, the luminaires are tested for emitted interferences and interference resistance according to the EMC Directive 2004/108EG and electromagnetic compatibility rules.
Dust and water chambers are used to check IP rating of the light fittings, including sealing tests underwater.
Heat measurements to check the maximum admissible ambient temperature, low temperature tests and material ageing tests performed in climatic chambers, especially for explosion-protected light fittings, finish the test program for SCHUCH light fittings.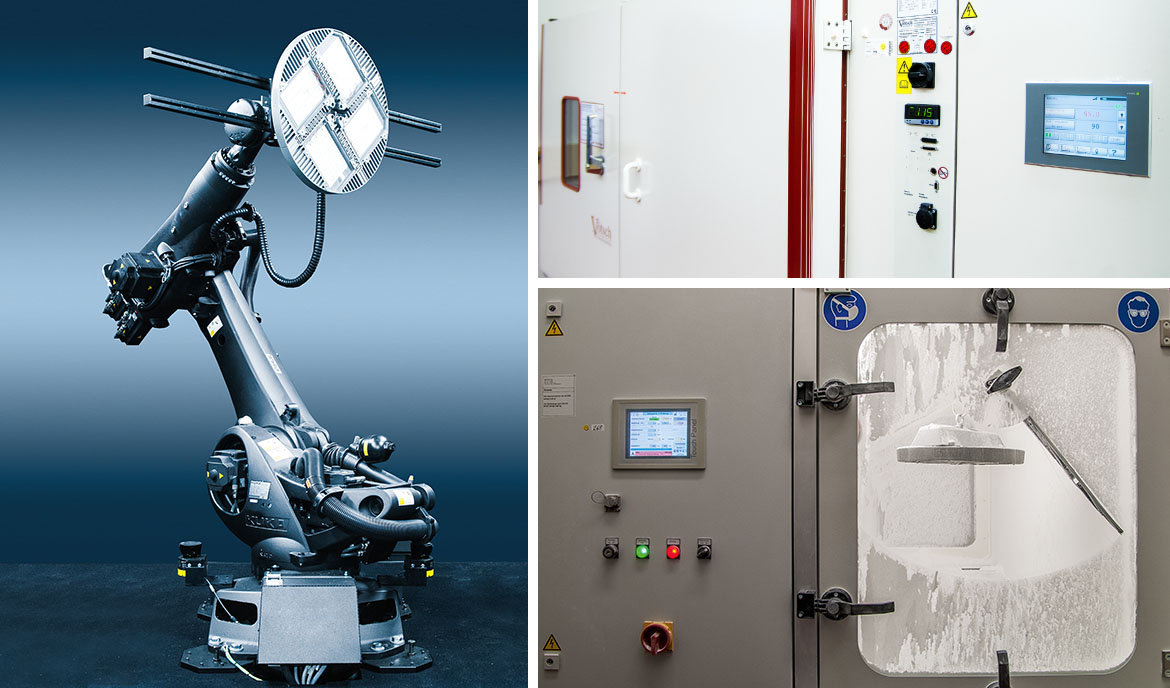 A high vertical integration is one of our key characteristics. Punching, cutting, bending and welding of metal parts are performed on most modern machining centres and welding robots. This results in housings, reflectors, mounting accessories made of sheet steel, aluminium and stainless steel in different shapes, sizes and specifications.
The tools required for punching, cutting and bending are produced and maintained in the in-house tooling workshop. This provides us with flexibility and independence and allows us to react promptly and flexibly to customer needs.


Since 1955, all of our light fitting housings and reflectors made of fiberglass-reinforced polyester are produced on in-house moulding presses. Thanks to decades of expertise, we are fully aware of the optimal interaction of temperature, pressure, pressing time and material in order to produce highly resistant light fitting housings.
After appropriate storage, these housings as well as most of the die-cast aluminium housings are provided with foamed polyurethane or silicone gaskets in fully automated dispensing systems. Individual dispensing and foaming settings allow perfectly fitted gaskets for every housing and cover.

All of our metal and die-cast housings as well as reflectors and other metal parts are powder coated in our most modern, energy efficient and eco-friendly fully automated powder coating plant. Every RAL or DB colour, depending on the customer's preferences, is possible.
For the powder-coating of small batches, especially in special colours, the plant offers a manual cabin as well.
Polyester housings in outdoor areas are exposed to high loads by UV radiation and weather effects. In the course of time, this can lead to surface erosion of the housing with unsightly consequences for the visual appearance. Therefore, we offer our polyester outdoor light fittings with an UV protective coating (on request), that is applied in a separate wet painting booth.

Careful manual assembly of the light fittings, the combination of mechanical, electronic and optical components to the end product, is performed in several assembly departments.  
Finally, every single light fitting undergoes specific functional tests, before it is packed for delivery. 
Continuous quality control, internal audits and trainings of our employees at all production stages ensure a high quality standard for all of our light fittings.