SCHUCH - 125 Years of passion for excellent lighting
If you want to survive and prosper in global comparison, you have to keep up with the rapid development at all levels. Always a matter of course for SCHUCH! Founded in 1895 by Adolf Schuch, we celebrate our 125th jubilee this year. We think it's a great achievement to be proud of!
15 years after the invention of the incandescent lamp, Adolf Schuch founded the company Adolf Schuch Lichttechnische Spezialfabrik in Worms on March 2, 1895. Fascinated by this new technology he concentrated on lighting solutions for industrial applications. Thanks to his contacts to the local leather industry and the neighbouring chemical companies BASF and Farbwerke HOECHST, he was quickly faced with the task of developing luminaires for areas with harsh ambient conditions. This was the birth of the damp-proof luminaire and explosion-proof luminaire product areas. The first street light fitting was added in 1906 and completed the product portfolio. Today, these three areas are still the mainstays of our product range.
The international business was established in 1910 by delivering the first explosion-protected mining light fittings to coal mines in South Africa. Today, the customer list reads like the "Who's Who" of the German and international industry and confirms the excellent reputation that the company enjoys worldwide.
There have been ups and downs in 125 years of history. The most serious was the total destruction of the company on February 21, 1945, just before the company's 50th anniversary. Already in the summer of 1945 the reconstruction started. The company grew rapidly and the production areas had to be expanded again and again. In 1964 the company moved to the new Plant II on the outskirts of Worms, which is still the company's headquarters.
Highest product quality – Top maxim of our activities
The area of explosion protection requires highest precision and quality. Our customers from the chemical, petrochemical or pharmaceutical industry place highest demands on the reliability, safety and longevity of explosion protected luminaires. Thanks to our expertise in this demanding field since the company's foundation, high quality standards and high product quality are among the keystones of our corporate philosophy. This is not only evident in our explosion-protected luminaires, but in every single luminaire in our product range.
Comprehensive tests, which are carried out in our own laboratory centre (recognised by the VDE - one of Europe's largest technical-scientific associations), ensure that the high quality standards are met right from the development of a luminaire. Thus, a valuable wealth of experience has been built up over decades, from which every new developer generation benefits and to which it contributes its part. For our customers this means, that they can rely on the high quality standard of all SCHUCH lighting solutions.
High level of vertical integration and highest flexibility – Consistent customer orientation
Since the foundation of the company, the high level of vertical integration has been a trademark of SCHUCH, with two decisive advantages:
On the one hand we keep the most important quality-shaping processes in-house and on the other hand we always remain highly flexible. Particularly the supply of industrial customers require a high level of customer orientation. Product modifications and special versions are necessary in order to meet the diverse requirements. Flexibility and the ability to build and test prototypes are essential and one of our greatest strengths.
Even the design and construction of special machines and systems, that were not available on the market, for example semi-automatic foaming systems or our own Prepreg production, was a matter of course for us. Even today, many punching, bending and pressing tools are manufactured in our own tool shop and new manufacturing processes, such as sealing/casting of explosion-proof LEDs or high-frequency welding, are integrated into our own production process.
100% own products – clear brand strategy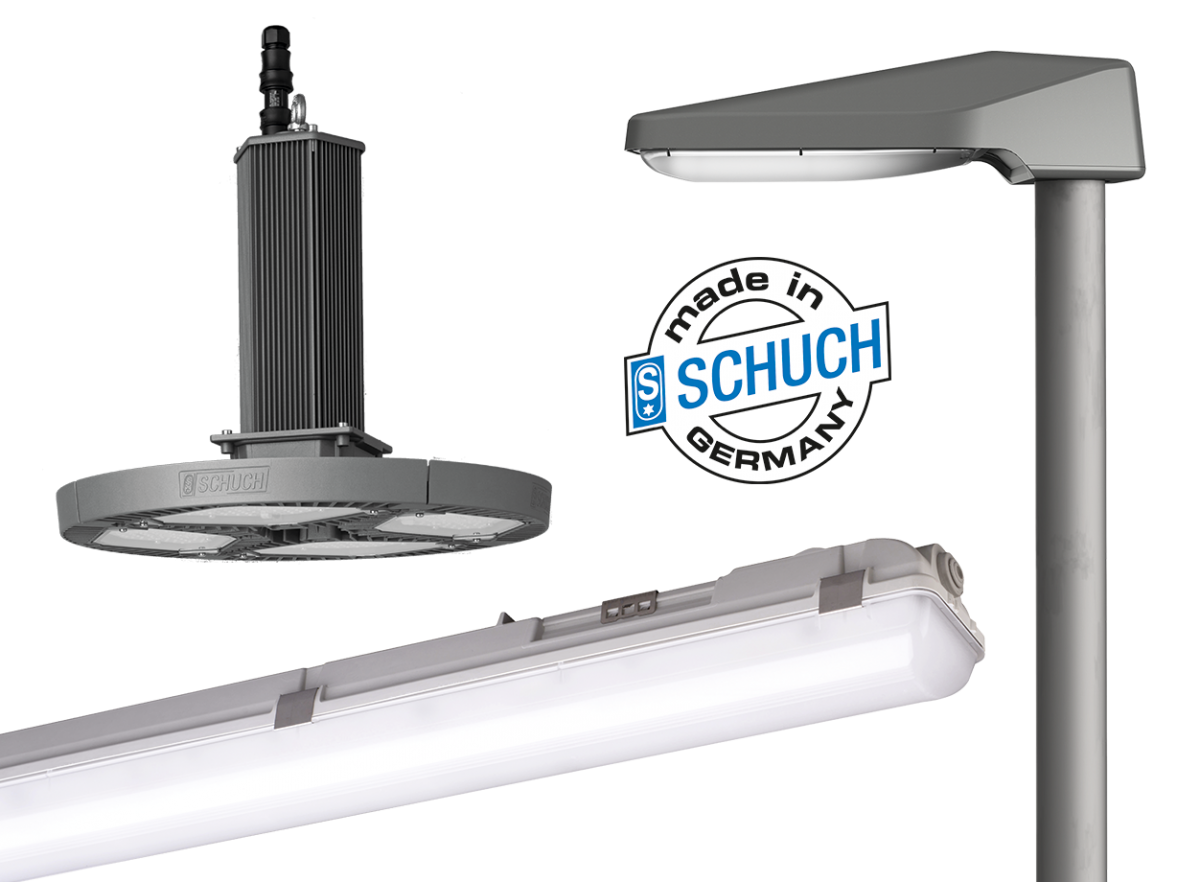 SCHUCH luminaires are distinctive brand products "Made in Germany" with an excellent quality you can rely on. Every single light fitting in our product range is an original SCHUCH light fitting. Developed and designed by our own engineers, manufactured on our own tools, produced and individually tested. Unique and distinctive!
The trend associated with the advent of LED technology to add more and more luminaires produced in the Far East to the product assortment for price reasons contradicts everything we stand for. In this way, many luminaire manufacturers are increasingly becoming trading companies and are losing their individual profile. Quite in contrast to this, SCHUCH luminaires are and remain distinctive quality products - "Made in Germany"!
Innovative – even on complex terrain
For more than 125 years, SCHUCH has been a specialist in industrial lighting, with particularly strong experience in difficult environmental conditions. With innovative ideas and products, we have always given the industry new impulses. Particularly in the demanding field of explosion protection we are known as an innovation leader. A convincing proof of this is the pioneering use of 2-pin base lamp technology in Ex-linear luminaires, which made us the pioneer of modern explosion-protected linear luminaires in 1989.
Already in 1934 we developed the first gas-tight pendant light fitting, which was advertised with the statement "completely hermetically sealed". Today, gas tightness in connection with the negative effects of harmful gases on the service life of LEDs is highly topical again. Therefore we also offer innovative solutions with the first extremely gastight LED luminaire series PRIMO XR  and the RESISTANT light fitting range.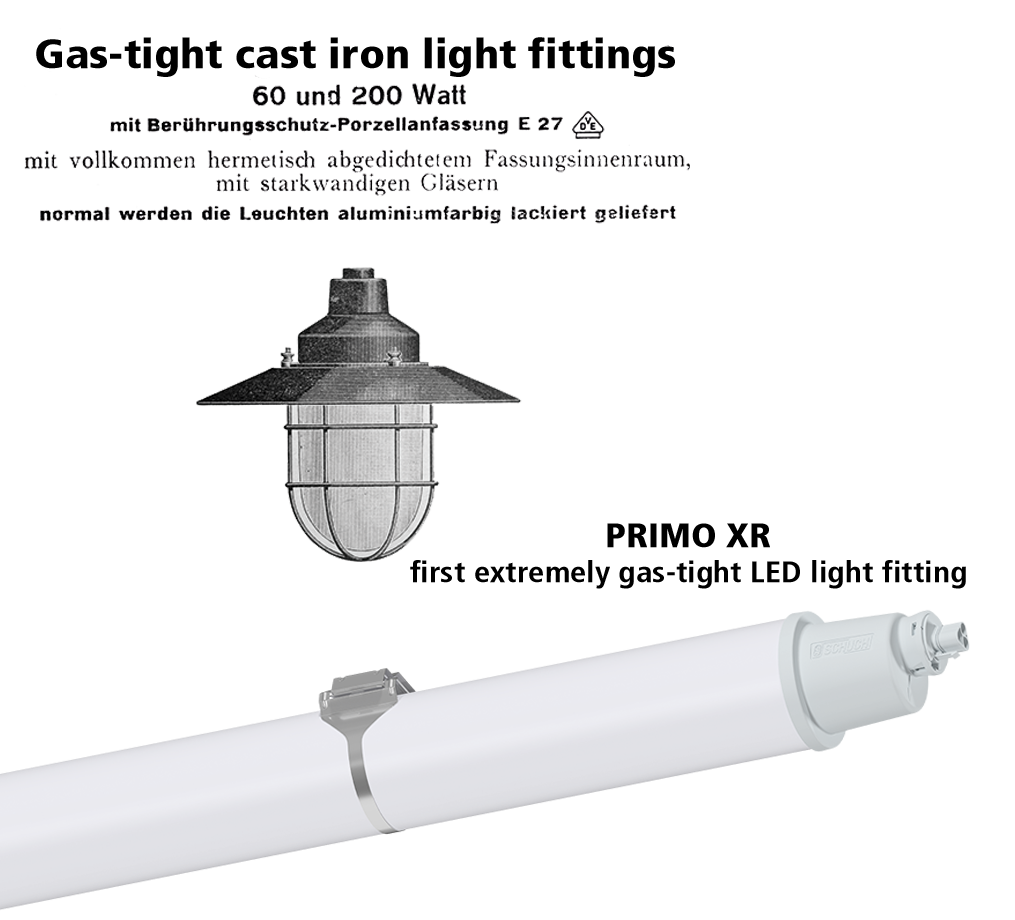 Responsibility for the environment
SCHUCH is aware of its environmental responsibility and therefore consistently focuses on high-quality light fittings with high efficiency, long service life and interchangeable components. Higher energy savings, longer lifetimes and less waste lead to a significant reduction in CO2 emissions. Luminaires of the VARIO series offer additional energy saving options thanks to their variably adjustable luminous flux, as well as multiple use instead of disposal, since the luminous flux can be easily adjusted in case of change of use of the premises.
While many luminaire manufacturers, including those with "greenwashing campaigns", enrich their product range with products from the Far East and leave a large CO2 footprint due to the long transport routes - we produce with great responsibility for our environment in Worms, Germany. Our actions are consistently geared towards sustainability. As a responsible family company, we make our contribution to climate protection and the conservation of valuable resources.
With expertise and dedication into the future
The company has grown over generations due to innovative strength, foresight and a high level of commitment of all employees, reaching an outstanding international reputation and becoming one of the leading enterprises in this business under the leadership of the managing director and co-owner Hans Pfaffenberger, who died in 2019. In the meantime, with his grandchildren Nicolai Wolf and Aljoscha Wolf, the 5th generation is responsible. Together with their father, Carlo Wolf, they face the new challenges and continue the tradition of the family business with great success.