Adaptive light for outdoor Areas
Good lighting must meet many requirements: ensure the safety of road users and residents, increasingly take ecological aspects into account, and offer urban planners opportunities to make inner-city areas more attractive. Static lighting does not meet these requirements. Adaptive systems, on the other hand, with which lighting can be flexibly adjusted to changing situations, offer many forward-looking solutions.
Change of the light colour
Humans and nature should not be affected by artificial light more than absolutely necessary. This is achieved with the help of colour-changing, controlled light. In this way, the right amount and colour of light can be provided in each case, which also respects the nocturnal ecosystem ("insect mode"). 
For this purpose, two different light colours are combined in one luminaire, for example the neutral white with 4,000 K and the more nature-friendly light colour 2,200 K. By changing the mixing ratio of the two light colors, the emitted light can be changed to a warmer, more pleasant light during the quieter evening and night hours. In the morning hours, on the other hand, the proportion of neutral white light colour is increased again, resulting in brighter, higher-contrast light, again to meet the higher safety requirements of increasing traffic. The multi-layer principle, in which each individual LED illuminates the entire surface, guarantees that - regardless of the respective light colour combination - there is always uniform illumination.
In conjunction with motion sensors, the light can be additionally controlled. At times when the lighting is reduced in power or dimmed, the presence of people or vehicles causes the luminous flux to increase (and then decrease again) to meet the need for safety.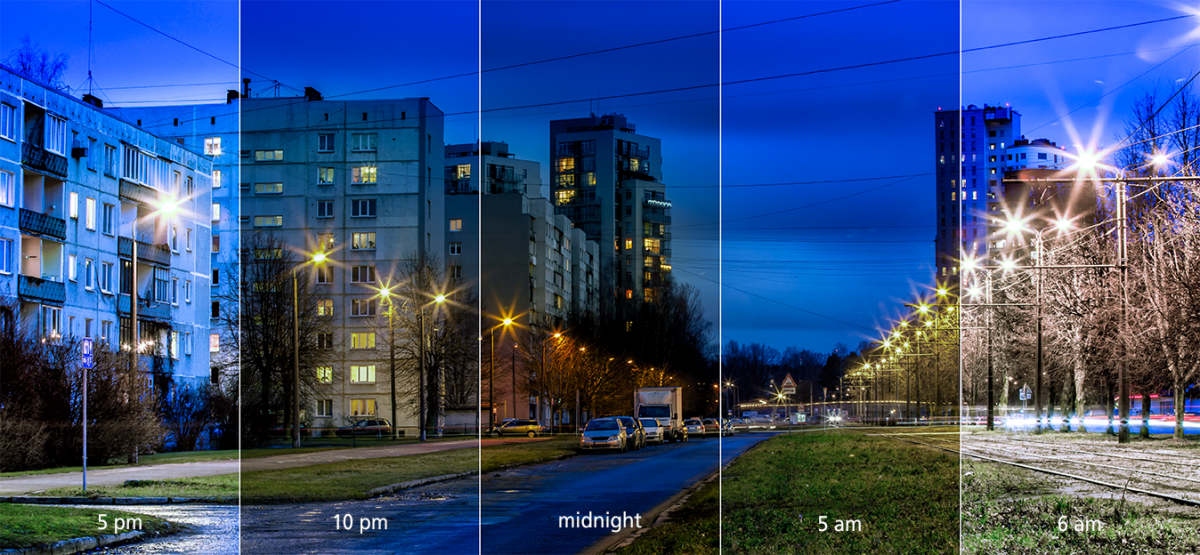 HIGHLIGHTs
Autonomous adjustment of the light colour and luminous flux
Neutral white light in the early evening and morning enables good contrast vision and increases the attention of road users
Warm and dimmed light in the deep night hours supports the sleep of local residents, is particularly insect-friendly and minimizes light emission into the night sky
Smooth transition between colour temperatures
Multi-layer principle guarantees uniform illumination of the entire area in the respective light colour combination
Light colours can be combined according to customer requirements
Illuminance and dimming profile can be programmed according to customer requirements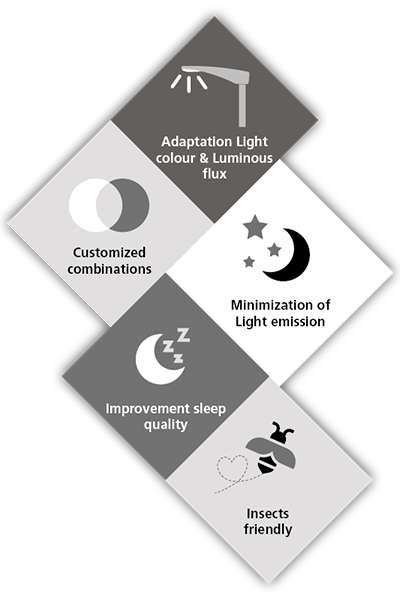 Colour combinations
Standard version STREET (colour temperature 4,000 – 2,200 Kelvin)
Version INDUSTRY (colour temperature 6,500 – 3,000 Kelvin)
Version ENVIRONMENT (colour temperature 3,000 – 1,800 Kelvin)
Ausführung CUSTOM

Combination of any 2 light colours according to customer requirements
Options
Control via motion detector
Control via RFL or LIMAS light management system
Example: Cycle path in outdoor area
Basic lighting 20% in 1,800 or 2,200 Kelvin, dimming up to 100% and 3,000 or 4,000 Kelvin when motion is detected, following light (light on demand)
CHANGE OF THE LIGHT DISTRIBUTION
Bad weather, such as rain, fog or snow, can become a problem for road users. In addition to impairing visibility and thus the perception of other road users, significant glare can occur, especially on wet roads.
Adapting the light distribution to changing weather conditions, i.e. using luminaires with two different optics, can be a solution. A wide-beam light distribution on dry roads and a narrow-beam light distribution on wet roads can help to reduce glare and thus increase the safety of road users.
Whether such a solution makes sense in individual cases can only be discussed in a detailed consultation. However, the normative requirements for both dry and wet road surfaces are already met by both our AB optics and the low-glare ABL optics.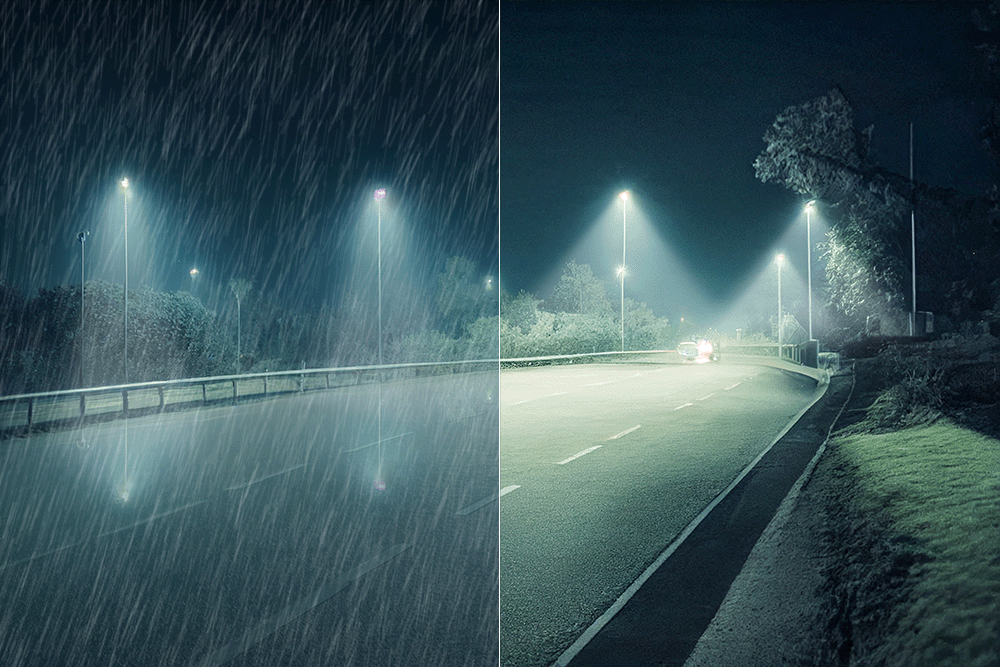 AVAILABLE LIGHT FITTING SERIES