125 years of experience and competence                                             
| | |
| --- | --- |
| Since 1895 we have been developing and manufacturing explosion-proof light fittings. With this huge wealth of experience, we have developed into one of the world's leading specialists in this demanding field. Consistently we have made history with innovations that have shaped the market. Today, high-quality LED products characterize our portfolio, which is continuously supplemented and expanded with new developments. | |
ExSTREAM Series
robust • highly efficient • extremely durable
The modular structure and the distinctive cooling ribs characterizes the design of the luminaire. Each individual LED segment is completely enclosed by cooling ribs, which creates a large cooling surface. The air flowing past (convection) leads to additional cooling of the segments. In combination with the separation of the device housing and LED segments as well as the direct connection of the LED modules to the aluminum housing, it produces excellent heat dissipation.
In conjunction with high-quality LEDs and electronic ballasts, these are the best prerequisites for a long service life of the components - even at high ambient temperatures.
Unique construction principle –
Perfect thermal management
Highly efficient cooling rib structure
↪ large cooling surface, very good convection
 
Direct connection of the LED modules to the aluminum housing
↪ excellent heat dissipation
 
Separation of device housing and LED segments
↪ thermal decoupling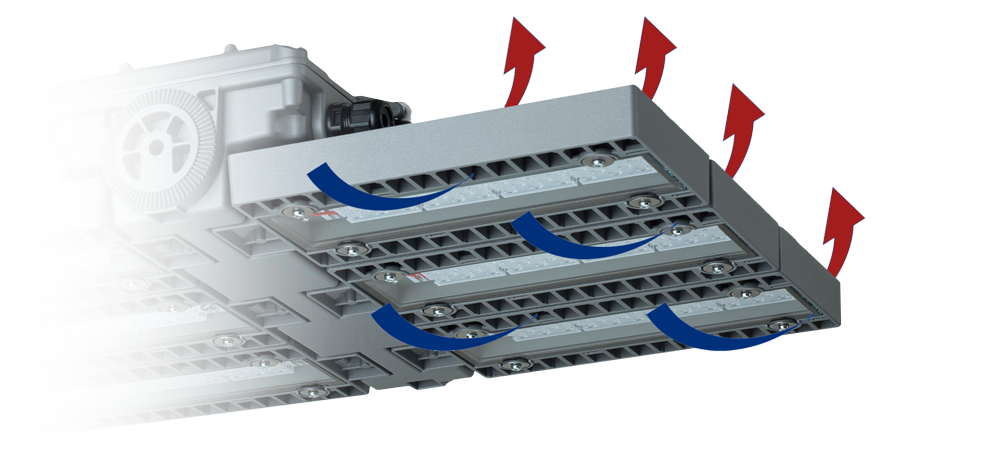 CONVINCING ADVANTAGES


Extremely durable
Lifetime L80 > 100.000 h at maximum permissible ambient temperature
Can be used from -30 ° C up to +55 ° C
 
Highly efficient
Luminous efficacy up to 136 lm/W
High energy cost savings
Short payback period
 
Installed quickly
Large Ex-e connection space in the device housing
2 cable entries enable cost-saving IN / OUT wiring without additional junction boxes
Stainless steel bracket that can be swiveled by up to 90 ° in 5 ° steps
 

Luminous flux
lm

Luminous efficacy
lm / W

Ta max
°C

Weight
kg

Zone 1 / 21

IBExU 20 ATEX 1117  

IECEx IBE 20.0028

10.500 - 16.000
110 - 136
40 - 55
13
20.500 - 32.000
110 - 136
40 - 55
18
Rounded values, technical developments reserved.
THERE'S EVEN MORE IN THERE
There is no alternative to quality. Therefore, only high-quality components with first-class properties are used in the ExSTREAM series. The robust construction made of die-cast aluminum is solidly processed and designed for long-term use in harsh environments.

Thanks to the modular structure and luminous fluxes of 10,000 lm up to 32,000 lm, conventional floodlights and high bay light fittings with high-pressure lamps up to 600 W can be replaced very efficiently.
Clever design simplify assembly, installation and maintenance.
Optionally available versions expand the application possibilities indoors and outdoors.




Universally applicable
Whether in the oil and gas industry, in chemical, petrochemical and pharmaceutical plants, refineries, tank farms, loading stations, port facilities etc., the floodlight series ExSTREAM e8820 can be used for almost all types of lighting tasks in potentially explosive areas.
Easy to assemble
With the swiveling stainless steel bracket, with which the angle of inclination can be adjusted in 5° steps, the alignment of the spotlight is extremely easy. A 0° installation with horizontal radiation downwards is particularly environmentally friendly. In this position there is no light emission into the upper half-space and the dark-sky requirements are met.
Options
Narrow, narrow-wide or wide beam light distribution
ECG with DALI interface for dimming
Version for ambient temperatures down to -40°C
Seawater-resistant version (e.g. for offshore installations)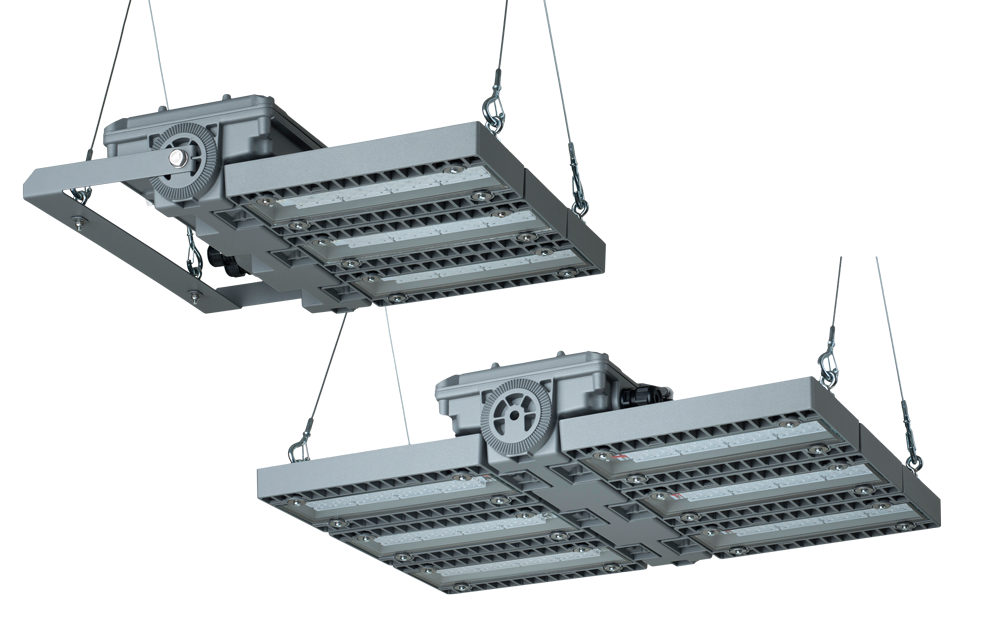 Universally applicable
Production, assembly and storage halls in the chemical, petrochemical and pharmaceutical industries, mills, paper mills, etc. are the typical areas of application of the high bay light fitting series ExSTREAM e8825. From greater mounting heights, they illuminate the potentially explosive areas safely and reliably.
Easy to assemble
You have the choice: either supended with Y-steel cables (2-point fastening) or directly on the ceiling with steel ceiling brackets. The required ring eyelets are included in the scope of delivery.
Options
Narrow, narrow-wide or wide beam light distribution
ECG with DALI interface for dimming
Version for ambient temperatures down to -40°C