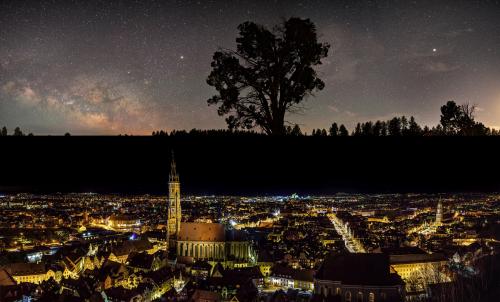 Special light colour Amber - always an option at SCHUCH!
Today's demands on the nature of the exterior lighting are just as varied as their applications: a lot of light in traffic, subdued light in the old town and at best no artificial light for nature.
 
LED-light for sensitive outdoor areas
Areas where safety, ecology and quality of life are in the foreground deserve increased attention. Amber (light colour 518 = 1,800 Kelvin) is called the magic formula here. A "yellow light" that fulfils the high demands of these areas and counteracts light pollution. The light of the Amber light fittings:
is much less diffused in fog than white light. The reason is the lack of blue spectrum. Better visibility and thus higher safety are the result.
is very insect friendly due to the lack of blue spectrum and is much less diffused into the night sky than white light. This is not only nice for star friends, it also has a positive effect on the entire ecosystem.
is perceived as a warm light that creates an atmospheric and cozy feeling.
 
One light colour – lots of possibilities
Not only the light itself should be designed to be appealing and to the respective requirements, the luminaires should also blend harmoniously into their environment. That is the reason why we offer almost the entire LED outdoor lighting range in the special light colour amber (1800K) as an option. Most series even match with the requirements of the International Dark-Sky Association (IDA). This means in detail that these SCHUCH light fittings:
have an Upward Light Ratio of zero percent
(when mounted, they do not emit light to the sky)
have only a small share of blue (up to 3,000K)
allow a dimmed lighting level at night
With the amber-coloured (1.800K) LED light fittings we offer a high degree of flexibility and make an important contribution to the spread of ecologically beneficial "yellow light".
 
SCHUCH LED outdoor light fittings of the special light colour amber create ecological benefits and bright streets!