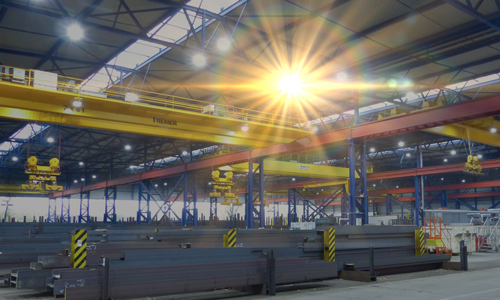 More and more frequently, information on the UGR value can be found in data sheets for LED industrial lights, especially for high bays. This creates the impression that the UGR value is a relevant benchmark for the use of a luminaire in industrial applications. However, if you take a closer look at the method for calculating this luminaire value, you will see that this is not the case.
There are two types of glare:

psychological glare
this causes an unpleasant feeling, but a noticeable reduction in vision does not have to be associated with it
physiological glare
this leads to a reduction in the visual function, but it does not have to be associated with an unpleasant feeling

The "Unified Glare Rating" (short UGR) procedure was developed by the International Commission on Lighting CIE in order to standardize worldwide the assessment of psychological glare in indoor / office lighting.

 

In industrial lighting it is usually a matter of visual performance and thus of physiological glare, which is essential for occupational safety and accident prevention. However, the UGR method cannot capture this type of glare, which is not surprising since it was not developed for this purpose.

The UGR method is therefore not suitable for assessing glare from lighting systems in industrial applications.
 
A new, suitable method must be developed for these applications.
A corresponding research project is already being initiated by the specialist committees in the ZVEI. Detailed information can be found in the corresponding position paper of the ZVEI "UGR procedure - application and limits" (only in German), as well as in the statement "Glare assessment in industrial lighting" (only in German) by Prof. Dr. Bruno Weis, under whose leadership an ad hoc working group developed the aforementioned position paper.