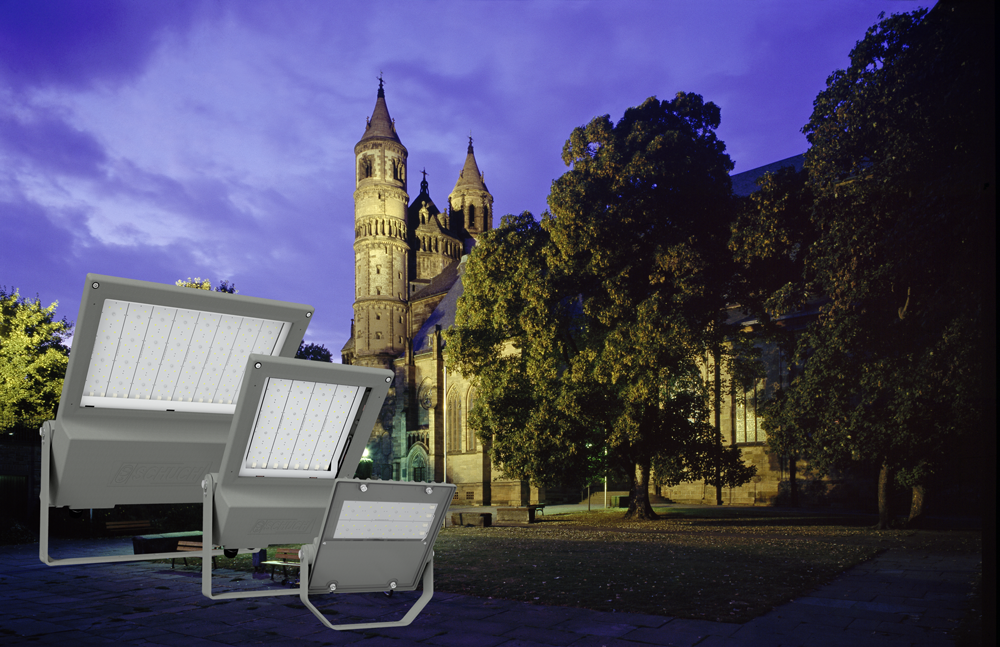 The FOCO family introduces itself and grows: FOCO 7600 VARIO
The requirements for outdoor light fittings are as varied as their areas of application and the variety of types on the market is correspondingly large. The wide range of services of the FOCO family from SCHUCH as plane surface floodlight or floodlight ensures flexibility and requirement-based lighting results. There are almost no wishes left.
 
The new FOCO VARIO – small but powerful!
The well-known plane surface floodlights / floodlights of the 7700 and 7800 series from SCHUCH get accomplished by a new member and will be marketed under the name FOCO in the future.
The newest and smallest member joins the FOCO family as a VARIO light fitting and is a true all-rounder:
Powerful and variable
Thanks to almost infinitely adjustable luminous flux, it replaces in two variants a wide range of conventional floodlights (HME 80 to 250 or HST 50 to 100 and HSE 150)
 
Flexible
The luminous flux can be adjusted at any time, simply, quickly and without tools (2.430lm – 9.270lm)
 
Plane surface floodlight or floodlight, the applied optical lenses define the characteristics of the lighting distribution curve
 
Unique in the combination because none before was as versatile in luminous flux and application flexibility in conjunction with the highest quality level
 
Small but not alone, together with the larger 7700 and 7800 series, it ensures optical uniformity and requirement based illumination of numerous outdoor areas
Old acquaintances and a new face
The FOCO family from SCHUCH combines two well-known and one new series and thus covers a wide range of luminous flux levels from 2,400lm to 37,200lm.
All luminaires are following the typical flat design of this series. The direct gap free adaption of the LED modules to their die-cast aluminum housing ensures excellent thermal management and a long service lifetime (>100,000 h) and surge voltage protection of 10kV.Various optics (narrow-wide, narrow, wide and asymmetrical beam) allow the use as a plane surface floodlight or floodlight.
A lot of optionally available variants with luminous flux reduction or DALI functionionality, versions for connection to group or central battery systems, as well as a constant luminous flux function complete the range of this robust floodlight program.
 
Requirement based and uniform - reduce the variety of types with the FOCO family light fittings!