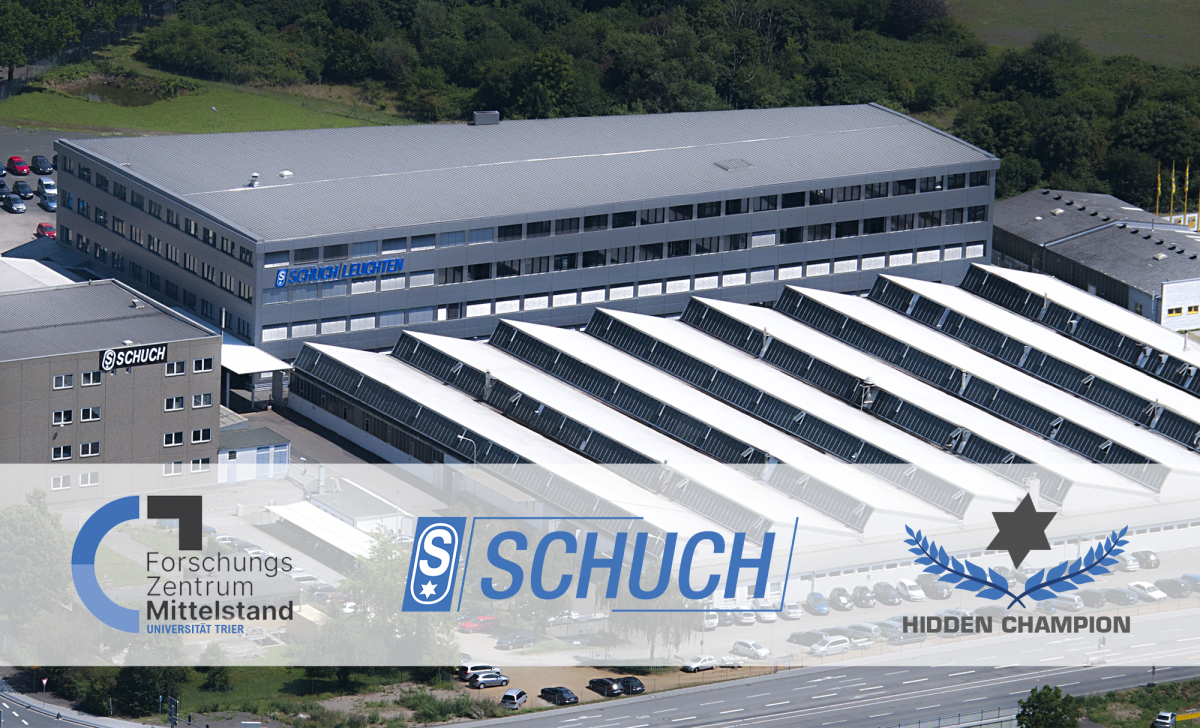 Hidden champions are the secret stars in the corporate firmament. They are shining examples of medium-sized innovative and export strength and the spearhead of German medium-sized enterprises. But despite their economic importance, they are usually not well known to the general public.
This is the tenor of a new study by the research center for SMEs called "Forschungszentrum Mittelstand (FZM)" at the University of Trier, which is  supported by the Ministry of Economics of Rhineland-Palatinate. The german study "Hidden Champions in Rheinland-Pfalz ‒ Identifikation, Erfolgsfaktoren, Herausforderungen" is also dedicated to a systematic analysis of secret (world) market leaders for the first time. The findings on current opportunities and risks are also intended to promote cooperation between regional business and science.
 
Less than 1% of all Rhineland-Palatinate companies have emerged as "silent stars" -
and SCHUCH is one of them!
The fact that SCHUCH was named a Hidden Champion made us very happy and also a little proud. Because ultimately, this award is the impressive confirmation of our corporate philosophy and the outstanding performance that all employees have delivered throughout our entire company history.
 
---
   The German SME sector is of central importance for growth, economic stability, innovative strength and competitiveness
of Germany. The hidden champions from the SME sector, in particular, play an important role in this.       
Head of the study/ FZM spokesman Prof. Dr. Jörn Block
---

But how do you become a secret market leader?
Hidden champions are characterized in particular by the manufacture of high-quality products, strong innovation, highly qualified employees and close customer contact. In addition, they are usually indirectly and directly involved in their region: They support their company location in a variety of ways and thus contribute to a sustainable business location.
As a quality and technology leader in our niche market, we have been producing high-quality, innovative luminaires with a higher degree of protection for over 125 years. The high level of vertical integration and wide product range of our "Made in Germany" lighting solutions are just as typical for SCHUCH as reliability, continuity and a sense of responsibility towards customers, business partners, employees and the environment. With innovation, foresight and a high level of commitment from everyone, a company has grown over the course of more than 125 years of history that today enjoys an excellent international reputation as a lighting specialist and is one of the leading companies in this industry.

| | |
| --- | --- |
| Always owner-managed, the fifth generation is now successfully carrying on the tradition of the family business to belong to this exclusive circle of companies. | |